School Programs
Since 1986 Kate has been an artist in the Manitoba Arts Council's Artists in the Schools program offering residencies to schools throughout the province. In that time she's visited over 200 schools, and seen a lot of Manitoba! So it was not an easy decision, but she officially retired from the program this year, and will no longer be participating in the program.

My Message:
In the just-under 30 years of being an artist in the AIS program, I have met hundreds of wonderful, dedicated teachers, thousands of creative, inspiring students, and visited so many of the rural and northern communities of our province. I have lugged my five 8-foot tables' worth of sound effects and instruments north, south, east and west, making sounds not often heard in those parts! And every time I have been amazed at the wonderful ways the students implemented sound effects and movement into stories. I consider myself to have been extremely lucky to have been able to do this, and I have enough memories to last a lifetime. Thank you all for helping to make my life one exciting ride!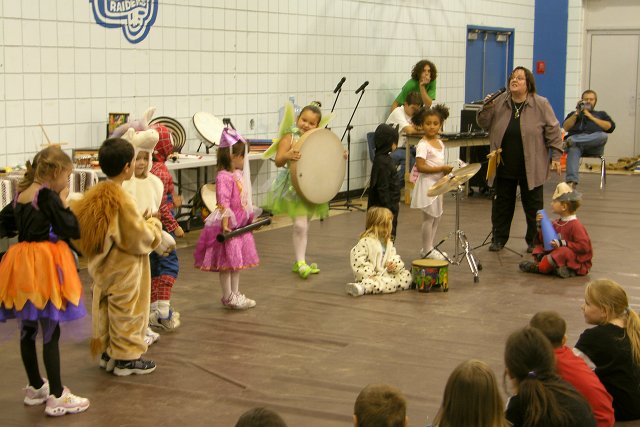 Kate Ferris works with students during an Artists in the Schools residency.