Home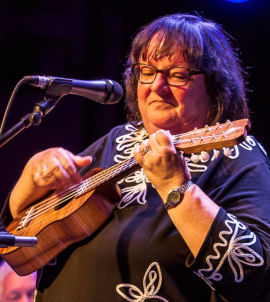 Hi! You've found the website for Canadian singer/songwriter/storyteller Kate Ferris and Ferris Fare Music! Thanks for stopping by!
Wow - 2017 has been a busy year! Often I find myself wondering where all the time went!
One performance highlight was being invited to perform in August at the Moose & Fiddle Festival in Nestor Falls, ON. (https://www.snnf.ca/moose-n-fiddle-festival/) What a gorgeous setting, and what a great line-up. It was a beautiful day; we met all sorts of great people, and heard a lot of great music. Fred and I had so much fun playing that stage. Hopefully we'll return one day.

I had a wonderful time sharing several house concerts with my friend and poet extraordinaire, Peter Paul Van Camp. We gave performances in La Salle, Portage la Prairie, Gimli and Winnipeg - and I think I had as much fun as the audience. I look forward to working with him in the future. PPVC has come out with one of the best poetry books I've seen in a long time: "When My Grandmother Cleans My Room, and a Good Five Dozen Other Poems & One Recipe for Cornmeal Mush". Check it out here. https://ballmedia.com/when-my-grandmother-cleans-my-room-and-a-good-five-dozen-other-poems-one-1-recipe-for-cornmeal-mush-peter-paul-van-camp-limited-edition-book-available-now/
In October I had the pleasure of being interviewed as part of CFAM 950 Golden West Radio's "Made in Manitoba" series. You can listen to it here. https://pembinavalleyonline.com/made-in-mb-podcasts/podcast/made-in-manitoba-kate-ferris

I once again taught at several "ArtSpeak" arts-intensive camps, acting as the music director. It's a fantastic program run by the Sunrise School Division, the brainchild of Anthony Steffes. The 20 kids show up early Monday morning at Camp Cedarwood, we work 'em from 9:00 am – 10:30 pm for three days, and they get to do music, dance, theatre, visual arts and outdoor activities. It's always fun, plus I get to work once again with my Canadian Content colleagues Judy Cook and Heidi Hunter.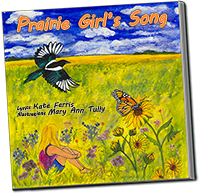 But the biggest highlight of my year was the release of a beautiful book -"Prairie Girl's Song". This is a song I wrote, and my dear friend – artist Mary Ann Tully (http://www.maryanntully.net/ the same Mary Ann Tully who painted the beautiful picture of my Ma's hands that I used for my CD cover) – created the gorgeous illustrations. We worked with Friesen Publishing, and are thrilled with the result. Mary's paintings are wonderful, and really capture the scenes that I sing about in the song. There's also a glossary in the back giving facts about the various flora and fauna shown throughout the pages, a transcription of the song's music, and a link to listen to the song as well. Mary and I have been dear friends ever since we taught together in Thompson, MB years ago, and we've dreamed of collaborating on a book ever since. Hopefully it won't be the only one!
Come February I'll again be teaching Beginner, Intermediate and Continuing `Ukulele classes for the Winnipeg Folk Festival's Folk School. So much fun, and I consider it a true honour to be entrusted to teach something that will hopefully bring you joy throughout your lives.  Classes are starting to fill up, but there's still time left to register and get in on the 'early bird' prices. Call the Winnipeg Folk Festival at (204) 231-0096 and ask for Morgan, and she'll get you signed up!
That's all for now, but keep checking back to see what's new in my world!
Quote of the moment:

"There are things that music can do that language could never do, that painting can never do, or sculpture. Music is capable of going directly to the source of the mystery. It doesn't have to explain it. It can simply celebrate it."
- Marsha Norman
"DEFEND the Arts - don't DEFUND the Arts!"