Home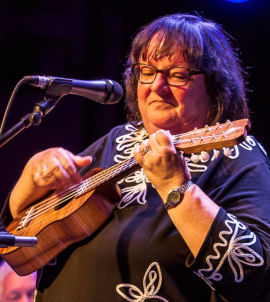 Hi! You've found the website for Canadian singer/songwriter/storyteller
Kate Ferris
and
Ferris Fare Music
! Thanks for stopping by!
My, it's been a busy summer, and there's a lot more 'busy' coming up this fall. You can check on upcoming events in more detail if you click on the 'upcoming' tab.
One big change is that, after 30 years, I have retired from the Manitoba Arts Council's "Artists in the Schools" program. I've had a wonderful time, traveled to over 200 Manitoba Schools, met thousands of wonderful kids, and have enough memories to last the rest of my days. But the time has come for me to bow out, and follow yet another path in my journey's road.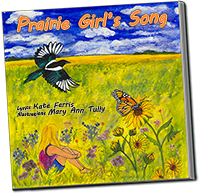 THE BIG NEWS:
One of the songs on my CD, 
"Marie's Forest"
has been beautifully illustrated by artist
Mary Ann Tully
(the same Mary Ann Tully who painted the beautiful picture of my Ma's hands that I used for the CD cover). Mary and I are presently working with Friesen Publishing, and our much-anticipated children's picture book "Prairie Girl's Song" will be released later this fall. Mary's paintings are wonderful, and really capture the scenes that I sang about in the song. There's also a glossery in the back giving facts about the various flora and fauna shown throughout the pages, and a link to the song as well. Mary and I have been dear friends ever since we taught together in Thompson, MB years ago, and we've dreamed of collaborating on a book ever since. I can't wait to see the finished product! I think you'll love it as much as we do.
I'm now set-up to accept
PayPal
for those of you who would like to order the CD, and later the book. For now, check the "Marie's Forest" and "Merchandise" pages. It's so easy!
Come September I'll again be teaching Beginner, Intermediate and Continuing `Ukulele classes for the Winnipeg Folk Festival's Folk School. Classes are filling up, but there's still time left to register. Call the Winnipeg Folk Festival at (204) 231-0096 and ask for Morgan, and she'll get you signed up!
And be sure to check out the information about the upcoming MASS APPEAL events happening in Winnipeg this September. There are mass gatherings for voice, brass/horns, fiddles and - of course - `ukuleles! It's free, open to all, and going to be SO MUCH FUN!
That's all for now, but keep checking back to see what's new in my world!
Quote of the moment:

"There are things that music can do that language could never do, that painting can never do, or sculpture. Music is capable of going directly to the source of the mystery. It doesn't have to explain it. It can simply celebrate it."
- Marsha Norman
"DEFEND the Arts - don't DEFUND the Arts!"