Home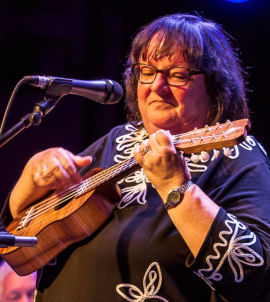 Hi! You've found the website for Canadian singer/songwriter/storyteller Kate Ferris and Ferris Fare Music! Thanks for stopping by!
Seems I was just talking about how quickly the summer was passing, and poof! It's almost the year's end! How did that happen? I think it was because it ended up being an incredibly busy time.

Fall started off with a bang with me doing a (very) early CTV morning interview for the show I did a couple of days later at Oak Hammock Marsh. Next came the "Mass Appeal" Ukulele Gathering. It was the 3rd year for it and we held it in the beautiful St. Vital Park in Winnipeg on September 13th. It was a bit on the cool side, but the rain held off, and fortunately we had lights . . . because by the time we were finished it was dark! Farewell to the long, sunny days of summer!

After that Fred and I got busy building a 'crankie'. What's a crankie, you ask? Well, it's a wonderful old-fashioned form of storytelling. Look it up! It's making a come-back, and we took my friend Mary Tully's beautiful paintings that she did for my book and used them as the roll for our crankie. Then, for the third weekend in September, we took part in Winnipeg's First Annual Crankie Festival. I did several workshops on both storytelling and ukulele, and then we presented our Crankie as part of the final afternoon's 'Open Crank'. It was extra special for me because our niece Karen, for whom the song/book "Prairie Girl's Song" was written came on stage with us and operated the crankie while we played the song. The entire weekend was just wonderful, and a true "Folk" festival.

Not much time to rest after that weekend. My wonderful friend and poet extraordinaire, Peter Paul Van Camp, had come back to MC the Crankie Festival, so he and I had several house concerts together. I love sharing an evening with him and hopefully we'll have the opportunity to do more house concerts in 2019.

So, just a few days after the Crankie Festival I was a part of our Ukulele Club of Winnipeg's "Prairie Jamboree Ukulele Festival." Once again Peter Paul Van Camp was the MC, and our guests included some amazing ukulele players like "Ukester Brown" and Kevin Carroll, and our headliners Cathy Fink and Marcy Marxer who blew everyone away at the Gala Performance. I performed at the Gala as well, and got to debut a song I'd written to sing with Peter Paul Van Camp: a 'sister song' to the Missouri Waltz that I titled "Old-Fashioned Waltz." Our club raised all the funds for this festival, without grants or corporate sponsors, and we were thrilled that at the end of the weekend, when all was cleared up and tallied, we had managed to not go into the red! Pretty impressive for a first year Festival. We're already planning the next one for 2020.

After that, a couple more house concerts with Peter Paul before he left for his home on Denman Island, and then I started the Fall term of Ukulele classes with the Winnipeg Folk Festival Folk School. Between Beginners, Intermediate and Continuing groups I have a total of 43 students - and they are such great people. I look forward to spending time with them every week. I had a bit of a surprise when, after teaching for the Folk School for six years now, the Board of the Festival decided they were scrapping all Community Outreach programs - including my classes - effective December. But before two days were out I was contacted by the Home Routes staff and am pleased to say that I will be continuing all three levels as part of their Home Routes Community Workshops. I couldn't be happier. The Home Routes organization had been the people who had put on the Crankie Festival, and are true promotors of real folk music. Their philosphy and mine are a perfect match, and I'm looking foward to working with them in the future.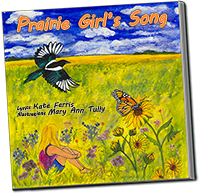 To finish up 2018 I'll be at the Dalnavert Museum's Christmas Sale with my book "Prairie Girl's Song" and my CD "Marie's Forest"! Then I spend 3 days at Camp Cedarwood as music instructor for the Jr. High ArtSpeak program run by the Sunrise School Division. I always have a super time working with the 20 Gr. 7, 8, and 9 students who come to learn music, drama, dance, and visual arts.
I finish my last ukulele classes with the Folk Festival the first week in December, and then am excited to perform in both the "Starry, Starry Day" and "Starry, Starry Nigh" events in Kenora, ON. A final performance at Lindenwood Terrace's Christmas banquet and suddenly the year is over. And it has been a GOOD one.
Lots of exciting things are in store for 2019, and I'll make sure to let you all kow about them. For now I wish you all a peaceful, happy holiday season. Whatever you celebrate, may you be able to spend time with family and friends.
Peace, Love & `Ukulele –
Kate
Quote of the moment:

"There are things that music can do that language could never do, that painting can never do, or sculpture. Music is capable of going directly to the source of the mystery. It doesn't have to explain it. It can simply celebrate it."
- Marsha Norman
"DEFEND the Arts - don't DEFUND the Arts!"